Coverking Custom Fit Car Cover for Select Chevrolet Truck C/K 150025003500 Models - Satin Stretch (Pearl White)
---
Price:

$393.50 Buy on Amazon

List price:

$448.44
Usually ships in 3 to 4 weeks. Free shipping.
Product Details
Color:

Pearl White

Manufacturer:

Coverking

Model:

CVC5SSP1CH2088
Product Features
This form-fitting fabric creates a soft and smooth finish that is intended for indoor use only
No straps or tie-downs needed to secure the cover due to the stretchy elastic
Manufactured with three-piece construction using blind stitching to hide all seams
Made from an elastic synthetic fabric with a unique fleece lining, the cover stretches in all directions and molds to the contours of your vehicle to highlight its design
Tailor-made to the exact specifications of your vehicle's year, make, model, and configuration options
Product Description
"The Coverking Satin Stretch Car Cover is an indoor Custom Car Cover fabric. It will fade if exposed to extended sun, and is not water resistant. Satin StretchTM is the SOFTEST fabric available, and has Lycra yarns to hug every contour of a vehicle. Blind stitching results in invisible seams making this a SEXY car cover!"
Amazon.com
Satin Stretch is available in a wide variety of appealing colors to suit any taste
Ultimate Indoor Protection for Prized Possessions
For indoor use only, the highest quality lingerie satin is blended with Lycra fibers that optimally stretch to show off the curves of your car. The invisible seams, bright colors, and museum quality fit make this Coverking's sexiest cover. But, don't let the beauty fool you - Coverking's Satin Stretch offers complete indoor protection from dust and dings. The plush inner liner pampers your finish and won't rub off on convertible tops. Like all Coverking fabrics, Satin Stretch is breathable – this allows heat and moisture which is trapped under the car to escape through the cover, preventing a "greenhouse" effect and condensation which may result in damage to your finish or a buildup of mildew. Besides offering great protection to your finish, vehicle covers also protect the vehicle interior from fading, block prying eyes from seeing what's inside the car (and acting as a theft deterrent) and help the environment by reducing the need for car washing. Satin Stretch is a great choice for protecting your toys in the garage during the winter. The snug fit allows you to enjoy your vehicle while you wait for spring! For an impressive fit and incredible outdoor protection, please consider Coverking's Autobody Armor.
Tailored For Your Vehicle
Like a fine suit, your cover is made to fit the curves and features of your car, truck, or SUV. One of Coverking's pattern designers spent time with your model vehicle and used 3D scanners and special software to record every compound curve and detail. That data is then used to create a world-class cover with the fewest seams possible. To keep the focus on the vehicle's impressive shape, Coverking employs hidden seams for an amazingly clean presentation. Custom mirror and antenna pockets are sewn in to allow the cover to rest snuggly on your vehicle's exterior. Neoprene elastic tensioners at the front and rear hold the cover securely in place.
American Made Quality
When you order your Satin Stretch cover, a skilled crafstman at our state-of-the-art facility in California begins the process of creating the ultimate cover for your vehicle. Your cover is made-to-order according to your vehicle and specifications, and quickly shipped to your door. Coverking custom vehicle covers are designed and cut on sophisticated CAD/CAM systems, which Coverking pioneered more than twenty years ago.
Superior Material
Satin Stretch was developed by Coverking's vehicle protection experts and engineers. The qualities that make a vehicle cover suitable for use depend largely on the fabric properties. Coverking designs it's own fabrics, and has the world's leading textile mills handle the manufacturing. Because Coverking has a team of engineers to specify exact material composition and construction, it is able to meet the most stringent material test requirements set out by the world's leading vehicle manufacturers. Coverking does not use "off-the-shelf" fabrics, which are ill-suited to vehicle cover needs.
Caring for Your Cover
Satin Stretch is designed to be low-maintenance and inherently easy to keep clean. However, to keep your cover functioning optimally, your cover may need to be cleaned periodically. Dirt and dust on either side of the cover can degrade its ability to repel moisture. Cleaning your cover is simple. Install the cover on your vehicle in a shaded area and hose off any loose dirt. If necessary, wash it further with a soft sponge or cloth soaked in water with a mild, bio-degradable cleaner. Hose it down again and hang to air dry. To clean the inside, simply install the cover inside-out and follow the same steps. Keeping your cover clean will ensure years of optimal protection.
Product Use Notices
DO NOT cover a repainted vehicle immediately. Check with your painter or body shop for recommended cure time. Premature use of cover in this situation could cause damage to repainted surfaces or lacquer paint. Coverking is not liable for this damage. DO NOT cover a wet vehicle. DO NOT cover a vehicle with convertible top down, windows or sun roof open, or T-tops removed. DO NOT use a cover while trailering a vehicle.
Warranty & Satisfaction Guarantee
Satin Stretch comes with a standard 1-year warranty against any defects in workmanship and materials. If a product fails under normal use during the warranty period, Coverking will repair or replace the product.
---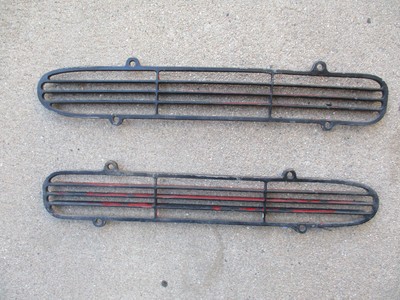 Price: $60.00