Monro-Matic Plus Shock Front Rear Kit Set of 4 for Cadillac Chevy GMC Pickup SUV
---
Product Details
Customer reviews
Over all great product one out of the 4 shocks had severe ..., May 9, 2018
Over all great product one out of the 4 shocks had severe damage to it but the quality or the factory finishing was not harmed at all, was most likely caused from shipping.Ordered product u sure of what to expect and was as expected,...
Five Stars, June 6, 2018
They were the right part and dampen nicely.
AWESOME SELLER, June 6, 2018
EXACTLY AS ADVERTISED. ORDERED ON A SUNDAY AND SHIPPED OUT THE NEXT DAY, WHICH WAS MEMORIAL DAY.
Product Features
1A Auto Lifetime Warranty
Quantity: 4 Piece Set
Product Description
Fits:
1999-06 Chevy Silverado 1500 4 Wheel Drive Front & Rear Shock Absorber 4 Piece Set without Electronic Suspension without Quadrasteer (excluding Z71 Models)
1999-06 GMC Sierra 1500 4 Wheel Drive Front & Rear Shock Absorber 4 Piece Set without Electronic Suspension without Quadrasteer (excluding Z71 Models)
2000 Chevy Tahoe 4 Wheel Drive Front & Rear Shock Absorber 4 Piece Set without Electronic Suspension (excluding Z71 Models)
2000 GMC Yukon 4 Wheel Drive Front & Rear Shock Absorber 4 Piece Set without Electronic Suspension (excluding Denali Models)
2000-06 Chevy Suburban 1500 4 Wheel Drive Front & Rear Shock Absorber 4 Piece Set without Electronic Suspension without Quadrasteer
2000-06 GMC Yukon XL 1500 4 Wheel Drive Front & Rear Shock Absorber 4 Piece Set without Electronic Suspension without Quadrasteer
2001-06 Chevy Tahoe 4 Wheel Drive Front & Rear Shock Absorber 4 Piece Set without Electronic Suspension
2001-06 GMC Yukon 4 Wheel Drive Front & Rear Shock Absorber 4 Piece Set without Electronic Suspension
2002-05 Cadillac Escalade EXT 4 Wheel Drive Front & Rear Shock Absorber 4 Piece Set without Electronic Suspension
2002-06 Cadillac Escalade 4 Wheel Drive Front & Rear Shock Absorber 4 Piece Set without Electronic Suspension
2002-06 Chevy Avalanche 1500 4 Wheel Drive Front & Rear Shock Absorber 4 Piece Set without Electronic Suspension
2003-06 Cadillac Escalade ESV 4 Wheel Drive Front & Rear Shock Absorber 4 Piece Set without Electronic Suspension
2007 Chevy Silverado 1500 Classic 4 Wheel Drive Front & Rear Shock Absorber 4 Piece Set without Electronic Suspension (excluding Z71 Models)
2007 GMC Sierra 1500 Classic 4 Wheel Drive Front & Rear Shock Absorber 4 Piece Set without Electronic Suspension (excluding Z71 Models)
---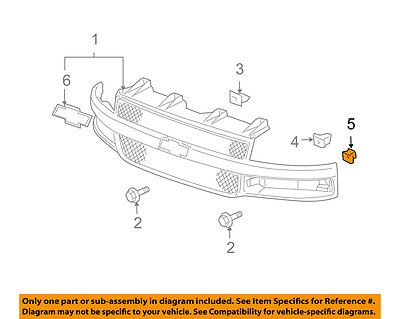 Price: $4.65